*Photo taken in St. Thomas of our ship, the Norwegian Pearl (left), a Carnival ship (centre), and a Royal Caribbean ship (right).
It's only been a couple of years since we took our first cruise, and Geoff and I are hooked. I've been on 4 cruises in that time with a 5th cruise coming up next month. Though I've always loved adventurous trips around Europe and exploring new cities, there is something absolutely relaxing, entertaining, and economical about cruising that I find impossible to beat. I'm hooked for life!
Geoff and I have gotten really good at finding good cruise deals and I thought it would be helpful to summarize our method.
Cruise Considerations
Cruise Line
I seek out and would recommend the following cruise lines for a regular cruise: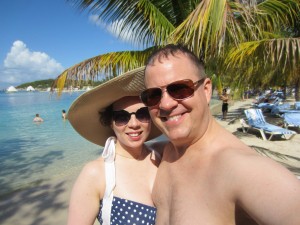 Royal Caribbean
Norwegian
Holland America
Princess
Celebrity
There are other nice cruise lines but they get to be more expensive so I won't bother listing them.
I would personally not choose to go on Carnival, MSC, Pullmuntur, Costa, or Croisiere de France though some good deals come up. I'm sure they're fine for some people, and good deals come up, but I'd personally do a lot of research before choosing one of those, especially for a first cruise. If you go on one of these cruise lines, make sure you check the reviews and the star rating. I think less than a 3.5 star ship probably gets pretty sketchy.
So far, I've just been on Norwegian and Royal. Norwegian has many of the best prices but you can catch sales on any of these lines. I think that the entertainment is very good on Norwegian, though the food is only so so. On Royal, the food is better but there were things about the entertainment programming that made me kind of crazy. We're trying Royal again next month. I look forward to trying Holland America, Princess, Celebrity, and other nicer lines like Cunard for a transatlantic crossing in the future.
Cruise Port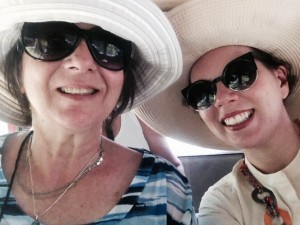 When choosing your cruise port, look at the cost of flights and how much a taxi will be to the cruise port based on the distance from the airport. You need to leave yourself lots of time to get from the airport to the cruise port. It's better to have extra time than to cut it close which could be a disaster if your flight is delayed. I've used Bayonne in NJ, Boston, Miami, and Rome. For some trips like the one in Rome, it's actually in a different city and requires a train to get there. That's fine when you're deciding to stay in that city for a day or 2 before the cruise but it would be very stressful to try to get to some ports straight from the airport. Miami and Boston are shortish taxi rides from the airport. Bayonne is a bit far but we were lucky enough to have friend who met us and took us there. Also, if you're travelling in the winter, consider staying the night before in your port city so that you don't risk extra flight delays due to weather.
Type of Cabin
The lowest price is generally for an inside cabin, unless there is a sale price for residents. Geoff and I have always had an inside cabin and it's absolutely fine for us. I know that a lot of people make a big deal about having a window. We've found the room to be very nice and the only time we spend in the room is for sleeping at night, naps, or changing to go out again. We spend lots of time outdoors and I have not missed having a window in the least. If you're set on having a window, or a balcony, keep in mind that your cabin will probably cost as much as double as the inside cabin. It's just a matter of choosing the type of vacation you want to have.
For checking flights, I like Hipmunk. Kayak is good too, but I always useHipmunk first. If you're doing any searches for cruises that start and finish in different cruise ports,Hipmunk is particularly good when you use the "Multi City" search option.
How to Find the Best Cruise Deal
First of all, the main trick to finding a great cruise deal is to use Vacations to Go. It's a rather primitive looking website but the functionality, and more importantly the deals, are there. You will need to create a login to use the site.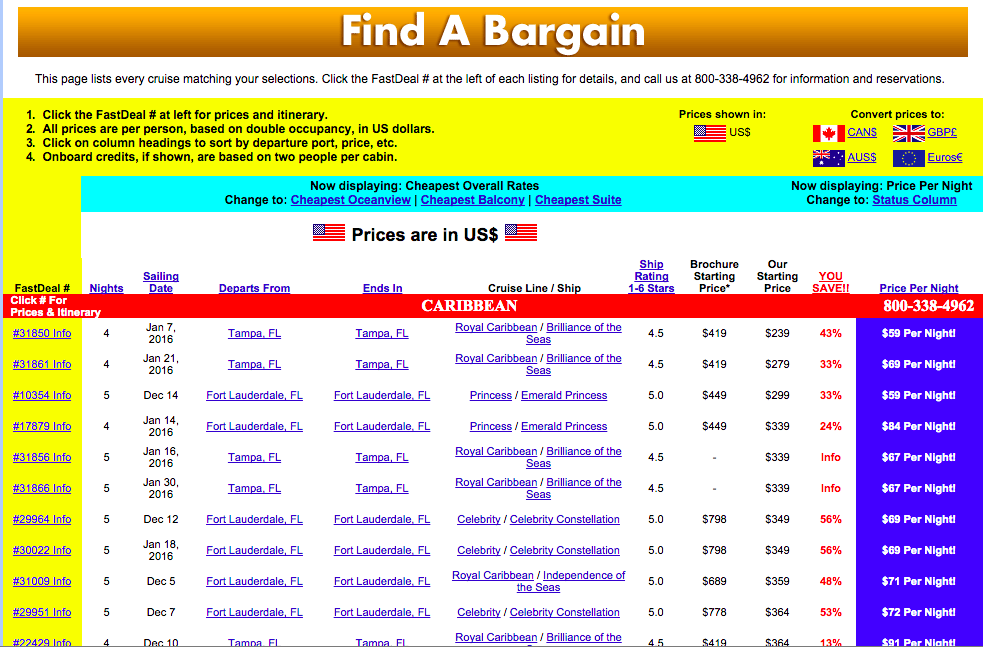 Start by using the Vacations to Go 90 Day Ticker in the top left hand corner. This is not usually the way that I book because sometimes we're booking more than 90 days in advance, but there are certainly some great deals on the ticker.

Hit the "Our Starting Price" header and it will organize each category by price. I use this to look at the very best prices while also looking at how many days the cruise will be to get an idea of deals might be available.
Geoff likes to use the "Price Per Night" search option. You can change to that organizational option in the acqua bar on the right hand side. That will change the far right column from "status" to "price per night" and then you'll want to hit the header so that it puts it in order of cheapest to most expensive for each category.
You also have the option to hit the flags to change from US to Canadian. However, I'm so used to looking in US funds that I'm more familiar with what constitutes a good deal in US than in Canadian.
I would not even consider a cruise that is more than about $75 USD per night. There are lots of good deals that come up between $30 and $70 USD per night. It's better to hold out.
You can browse the itinerary for each cruise by clicking on the number on the far left side. Consider the number of ports as well as the ports themselves, and also the number of days at sea. I actually quite enjoy a few sea days as they can be very relaxing. On 7 day cruise, 3 port days are nice while on a 10 day cruise, 5 port days are nice. More would be a bonus. However, you can get some really good deals for repositioning cruises that have very few ports and these can be nice for enjoying the ship and the view of the ocean.

Move on to Custom Search after your initial browse of the 90 Day Ticker. You can do this by going back to the Vacations to Go home page. Under the basic search criteria in the left hand bar there is a link that says "custom search". This is how I usually fill in the fields:

Choose a Region – I usually put in Caribbean (All) and Europe unless unless I have somewhere specific in mind.
Time Period – I fill this out with a 1 to 2 month window. Too big a window will generate too many answers and they'll ask you to start again.
Min/Max # of Nights – I usually leave the minimum blank but I put in a maximum. In my case, the max is generally 10 but it's up to you.
Cheapest Stateroom – I leave it as is.
Min/Max Price – I leave the minimum blank and I usually put in $1000 as the maximum, sometimes I put $750 as the max, of if it comes back with too many options I might lower it again.
Choose a Cruise Line – I usually leave it blank.
Exclude a Cruise Line – I always put in Carnival and usually also Pullmantur, MSC or Costa.
Choose a Cruise Ship – I leave it blank.
Excluse a Port – I leave it blank.
Choose a Departure Port – I usually leave it blank.

Return to Same Port (Roundtrip) – I usually check off this box. It's possible to get good deals that depart and finish at different ports but the flights get to be more expensive. 

Sometimes you will get a message like this: "Your search produced 675 cruises, which are too many to list. Please make one or more additional search selections." You'll need to narrow down your responses. Adjusting your travel month from 2 to 1 month, or putting the price down from $1000 to $750 and then to $500 is usually a good way to go.
Search the same way as mentioned above in the 90 Day ticker section by searching by price, and searching by "price per night".
If you're flexible about what month you travel, you might get some better deals. Some months just have better deals than others. In addition to last minute deals, there are also good deals that pop up 2-3 months before the date of departure. In April, my mom and I went on a 10 day Caribbean cruise for just $350 USD each in and out of Miami! We booked at the end of January.
How to Book the Best Cruise Deal
When you find a deal that you're interested in, you can do it through the website by clicking on the cruise deal number and then either calling or hitting the "Click to Inquire About a Cruise Online" button or you can contact the nice guy who helped me with my last couple of cruises:
Cyrus Washington
Master Cruise Counselor and Luxury Specialist
Vacations To Go
cwashington@vacationstogo.com
Hours: Thu-Sun: 11am-10pm Central Standard Time
US and Canada: 1-800-338-4962 ext. EXT 7788
For toll free numbers from other countries, click here.
Cyrus is always so nice and helpful and I plan to use him again for as long as he's working with Vacations to Go.  If you contact him, tell him you know me! He also helped to get us some extra on board credit when we asked for it, or sometimes you might be able to get some sort of other discount or perk.
If you find a cruise that you're considering and you want to discuss it, drop me a line! I'd be glad to look at it and tell you what I think.