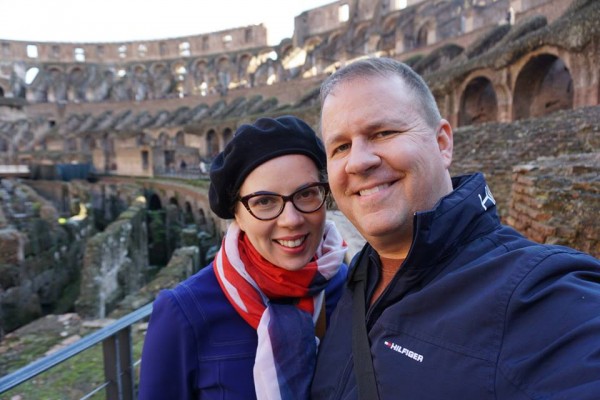 We went on a terrific Mediterranean cruise for our 5 year anniversary! It was fabulous.
I laid out some of my preplanning in this blog post. We certainly didn't go to all of the restaurants and sites listed there, but it was a nice way to have pre-researched options and then wing it.
First off, we flew Alitalia and it was awful. I'm so disappointed, I thought it would be a good airline but it's perhaps the worst I've ever been on.
ROME
We started out with 3 days in Rome. I had been to Rome once before and I enjoyed Rome, but not as much as some of the other parts of the trip. It had been recommended that we get a 3 day pass before leaving for Rome. Had we been there for longer, that would have made more sense. As it was, I would not say that we made enough use of the pass to get our money's worth. We opted for the Omnia card
which I purchased before we left. One of the biggest problems was that we could not find one of the 2 offices to pick up the card when we arrived in Rome on our first night. After having a very good dinner at Mamma Angela's Trattoria, conveniently located around the corner from our hotel and on some recommendation lists, we wasted over an hour trying to find the Omnia office but never did locate it. The next day, our first day in Rome, we went to the other office which was in Vatican City. It was a bit hard to find that office but we did eventually and got our cards.
One of the reasons we bought the card was because of the huge lineups that I faced when I went to Rome 9 years ago. However, this trip was in December and when we used the card to get in to the Sistine Chapel there was no line so it was rather unnecessary. Geoff enjoyed seeing the Sistine Chapel and St. Peter's Basilica where there is no charge.
We may have seen the pope from a distance at St. Peter's, someone thought it was him, but it's doubtful. It was interesting to see the Swiss Guard. We had a somewhat mediocre lunch near the Vatican at Da Vito e Dina. It was ok, but nothing special. I wish we'd gone to Alice Pizza which is near there and is supposed to be some of the best pizza in the city but c'est la vie.
We wrapped up at the Vatican by early afternoon and made our way to see the Colosseum which was fabulous, as was the Roman Forum that we walked through afterwards. Those were 2 of the highlights from Rome. Then we wandered for a bit, eventually having dinner at a random restaurant (the one I had researched in the area was closed). We went to Piazza Navona but by that point it was late and dark and we were too tired to enjoy it. We really packed it in that day!
The next day we got caught in a big protest that was going on in around the city. We went on a long and winding route, eventually heading across the river to Trastevere. We had a very good lunch at Fior de Luna which I would recommend. Geoff had the pasta Carbonara and went crazy for it. In the afternoon, we headed to the Pantheon which was one of the highlights of our time in Rome. Geoff was amazed by it. We ate some tasty cannoli sitting at the fountain in front of the Pantheon which was very yummy, though not as good as what I had in Sicily 9 years ago.
That evening we went to see the Spanish Steps at night and Trevi Fountain. Sadly, Trevi is under restoration and it wasn't really possible to appreciate it under all of the scaffolding. I think that after that we just wandered around a bit and headed home, we were pretty tired.
We hadn't eaten any gelato so on our final morning, we headed to a place not far from our hotel that was supposed to be some of the best of the city. This place turned out to be ice cream, not gelato, but it was very good. I'm not really an ice cream person but it was nice, and we had tiramisu as well. It was called Come il Latte and I'd recommend it if you're in to ice cream. It made a nice breakfast before we headed to the train station to make our way to the cruise terminal.
Cruise Time!
We took the Norwegian Jade on a 10 day cruise. This was the itinerary:
| | | | | |
| --- | --- | --- | --- | --- |
| | Day | Cruise Ports | Arrive | Depart |
| 12/13/2014 | Sat | Rome (Civitavecchia), Italy (EMBARK) | — | 5:00 PM |
| 12/14/2014 | Sun | At Sea | — | — |
| 12/15/2014 | Mon | Olympia (Katakolon), Greece | 8:00 AM | 4:00 PM |
| 12/16/2014 | Tue | Athens (Piraeus), Greece | 7:00 AM | 5:00 PM |
| 12/17/2014 | Wed | Ephesus (Kusadasi), Turkey | 8:00 AM | 6:00 PM |
| 12/18/2014 | Thu | Istanbul, Turkey | 1:00 PM | — |
| 12/19/2014 | Fri | Istanbul, Turkey | — | 8:00 PM |
| 12/20/2014 | Sat | At Sea | — | — |
| 12/21/2014 | Sun | At Sea | — | — |
| 12/22/2014 | Mon | Naples, Italy | 8:00 AM | 6:00 PM |
| 12/23/2014 | Tue | Rome (Civitavecchia), Italy (DISEMBARK) | 5:00 AM | — |
Geoff and I really love cruising. This was our 3rd cruise in one year! I wouldn't say that Norwegian is the best cruise line, the food is so so, but I like the balanced entertainment and we had a very nice time on the ship. The Elements show in particular is excellent, but we went to most of the shows and enjoyed them. We really enjoy the show band when they play jazz elsewhere on the ship, and even though the ballroom dance band called "Guys and Doll" were a bit cheesy we enjoyed being able to dance every night. As much as we love swing, it's nice to do some ballroom dancing too and we did get in some Lindy Hop including the show band playing Splanky one night.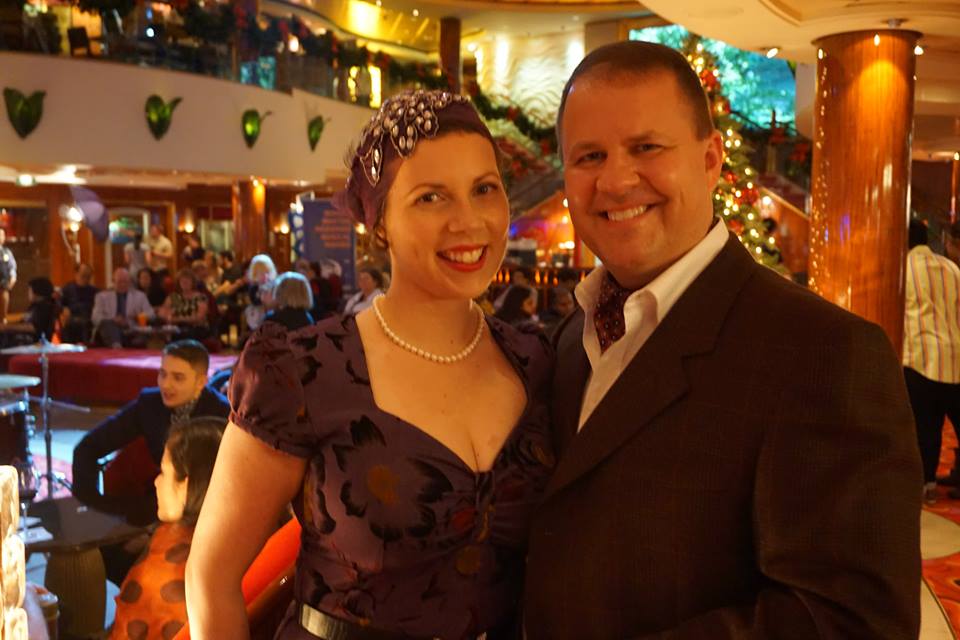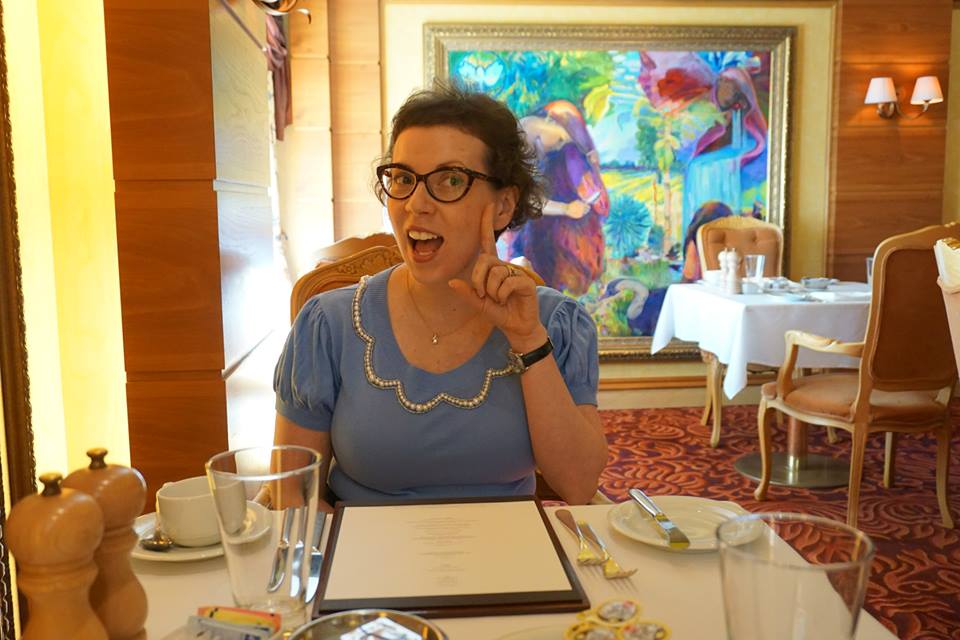 Olympia
It was neat to go to Olympia. It was neat to see the ruins and imagine what it was like. I hope that Geoff digs up the video that he took of running the field. It was silly but a pretty fun moment. We opted not to take a tour and hopped on the 30 minute train ride to the ruins without any problems.
For some reasons Geoff didn't post any photos from Olympia. Oh well.
Athens

Remember that time we got totally lost in Athens? Yeah, that one. After making a point of waking up very early and getting off the ship straight away to take advantage of our time in Athens, we wasted the first hour getting lost on the bus. We made our way all the way back to the cruise port and grabbed one of the city tour buses instead. In Athens, I'd say that the tour bus was well worth it. We had the chance to see the Acropolis of course. How could you not!? The Parthenon was pretty incredible. Sure, it was outshone by Ephesus the next day, but that doesn't mean that it wasn't incredible. I loved seeing it and I'm so glad we went.
I know that people can be down on Athens and I agree that it's not a beautiful city, but I liked it. It had a pretty good vibe for me. Not pretty, and yes kind of cheap and dirty, but there was a good feeling among the people. After seeing the Acropolis and Parthenon, we walked over to see the Temple of Olympian Zeus. It's pretty incredible to imagine what it would have been like in it's glory. Then we rode hopped back on the tour bus, got some lunch and didn't have time for much more which is a shame. I would have liked to spend more time there. Some day I'd like to go back to Greece and visit some of the islands.
Ephesus
We did not book a tour for Ephesus which might have backfired since there were not a lot of tour or transportation options that weren't really expensive, but we did end up finding a tour for about 20 Euros each which was a good deal. We had trouble with the ATMs in Turkey since we needed Turkish lyra for some things but Euro for others. It worked out in the end. It took us quite a long time to finally get rolling with our tour that day but once we did, Ephesus BLEW MY MIND.  I really didn't know anything about it. Everyone knows about the Parthenon but Ephesus was a surprise for me. The photos just don't do it justice. It's an entire ancient city that's being uncovered and it's incredible. They've only uncovered about 30% of it. I can't even imagine what the other 70% might include. I was totally amazed.
The tour also took us to what was supposedly Mother Mary's house. Just a tiny house up in the mountain but the water is supposed to be holy. Gurgle. Then the tour took us on a forced shopping trip to a leather store where they gave us a private fashion show. It was so embarrassing. None of us wanted to buy anything. We all just got back in the van. I guess that's what you get for taking a cheap tour. Also, the van stopped at what once was the Temple of Artemis at Ephesus; there's really nothing left there now but I can imagine how it must really have been one of the Seven Wonders of the World. There was just one column standing and apparently, that column would originally have been twice as tall. Pretty incredible.
In the little town there we met an older gentleman British expat named Tom. It was nice to speak with him and get his point of view about retiring and living in Turkey.

Istanbul
Loved Istanbul! I got sooo tired, but it was a really cool city. We didn't book a tour and I think it wasn't necessary there since we had 2 days to soak it up. The Grande Bazaar, the Blue Mosque, Hagia Sophia, Topkapi Palace Museum, the Basilica Cistern… Actually, I enjoyed the Cistern the most. It was awe inspiring down there! Geoff enjoyed reliving many James Bond moments. I ate so much delicious baklava while we were there. They have entire stores dedicated to it with all sorts of varieties. We also picked up some spices including saffron, some tea, and a beautiful scarf for my mother in law.
Here is a video that Geoff also made of our trip to Istanbul.
Naples
We ended up taking a city tour bus in Naples which did make life easier. It was tempting to go to Pompeii but we hadn't arranged a tour and it was too much to work it out at the last minute at a reasonable price. I'm glad we stayed in the city anyways. I enjoyed having a last day to soak up Italian culture again. The tour gave us a nice look at the city overall and there was a great view of Mount Vesuvio. The highlight was definitely our big pizza lunch though. We got kind of lost and had trouble finding a different restaurant on my list so instead we opted to go in to a place that was bustling with locals. I'm having trouble figuring out what the name of that pizza place was, but it was very good. We told the guy that we trusted him to pick something delicious for us; he brought out a rose bottle of wine (actually he brought 2 but we told him one would be enough), a plate with 3 giant balls of buffalo mozzarella which was delicious and we devoured only to be served with 2 giant pizzas! Oh my goodness, it was so much food but it was totally delicious. Needless to say, we didn't eat dinner that night.
All in all, a great trip! Too bad we started to come down sick as we were on the (terrible) flight home. At least we held it off until our return.