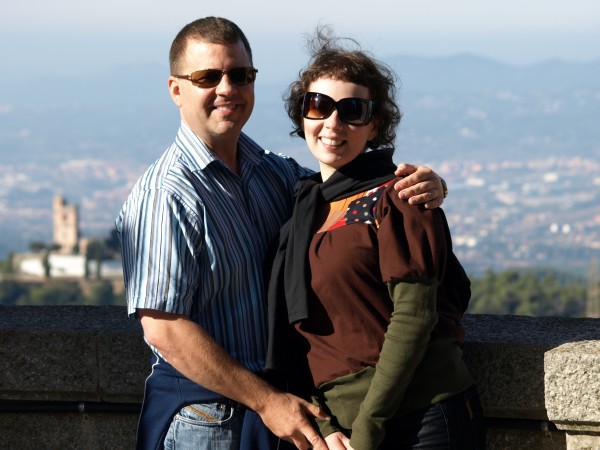 November 13th, 2008
Hello friends,
I just got back from a really lovely trip to Barcelona and I thought I'd tell you a little bit about it, in case a couple of you were curious! It was a relatively short trip, just a week, but perfect for a one city stop. We left on November 2nd and arrived the 3rd.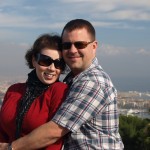 Unfortunately Geoff was really under the weather the day that we left. He spent a pretty miserable flight which is probably better 'best forgotten' but everything turned out just perfectly after we'd arrived and got some rest. We basically rested the first day there, and then we began our adventures on our second day.
Our Bed and Breakfast was just great. It was called Hostal Central. We basically skipped breakfast there and went to the market or the bakeries instead so I can't comment on that, but otherwise it was cute, inexpensive, a great location, clean and had a great little balcony facing the street. The street did get noisy at night, but ear plugs did the job.
Day 2, Tuesday, we strolled down Las Ramblas which is a pedestrian boulevard that's sort of the heart of the city and pretty fun the first couple of times that you walk it. After that it does get a bit too touristy. There are unusual street performers, bird and pet stands, flower stands, cafe patios, and about a million people walking along it at any given time of the day. I can't imagine what it would be like at the height of tourist season.
Off of Las Ramblas is the famous La Boqueria Market. It's like a bustling, colourful and European market – just the kind that I like! I had a bizarre and delicious breakfast of grilled squid, as recommended in my guide book. Geoff was thoroughly disgusted by it, but the seafood there is really fresh and tasty.
Then we strolled along the waterfront and boardwalk to part of the '92 Olympic grounds, past the Olympic fish, etc. It was a bit cloudy that day, but a great first walk around.
That evening we explored the gothic quarter which is one of my favourite parts of the city. We really liked going down all the narrow back streets, and there was an amazing Gothic cathedral with guard ducks, and parts of the old Roman wall.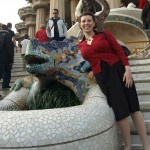 Day 3, Wednesday. Barcelona is a really unique European city, and very interesting because of all the Gaudi architecture which is in the Modernista style and very unusual!
We had a look at some of Gaudi's most famous works that day; La Pedrera (the Quarry) apartment building and the Sagrada Familia cathedral; two truly functional pieces of art.
(If you're curious about all things Gaudi, check out this link!)
The Pedrera apartment was fascinating, and we did a tour of the building which showed an innovative inner structure to the building which allowed the apartments inside the freedom to move walls and layout their spaces as they wanted. No squares or rectangles to be seen, and lots and lots of light from the inner courtyards. The roof was even more amazing with bizarre heads for chimneys and twists and curves.
The cathedral was amazing to me in a completely different way. Gaudi worked to integrate nature's influences wherever he could, and it's covered with animals such as snails, frogs, lizards, turtles, birds and more; totally bizarre and very intricate decorative work. But maybe what's greatest about it to me is that it's still not completed. They're still working on it. Any other cathedral that you see in Europe is quite old, but here's something that's not yet even finished. It's like history in the making.
We never made it to the Picasso museum (for shame! the weather was just too nice to be indoors too long) but we did go for dinner at The Four Cats restaurant where Picasso used to hang out.
Day 4, Thursday, we zipped down to the market and picked up some picnic items, then went down to the water where we ate and fed a school of fish. Then across to the marine museum which had a great old Spanish vessel. The Spaniard's are very proud of their naval history. Then we kind of intentionally went for a walk and got lost. It was sunny and beautiful that day.
In the evening we had a fancy dinner at the Casa Calvet restaurant which is in one of Gaudi's earlier buildings. It was a really lovely evening. We had the tasting menu which was an adventure and very delicious and watched some Japanese tourists fall drink too much beer and fall asleep at their table.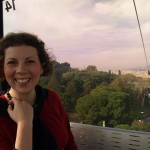 Day 5 Friday we went up Montjuic Mountain by cable car for a great view of the city. It's really beautiful up there! We had a drink at a gorgeous hidden little cafe surrounded by gardens, and found the other part of the Olympic grounds which Geoff rightly noted would make a great backdrop for a futuristic sci-fi film. There was also an amazing palace which is now the art museum. Unfortunately the 'magic fountains' in front weren't on, I guess since we were there off season.
Then we went back to the waterfront for the Barcelona aquarium. There's a slogan that says 'you haven't visited Barcelona until you've been to the Barcelona Aquarium' so I thought we'd better check it out and it was pretty great. They have this passageway that goes fully surrounded by water and you can get right underneath the fish and the sharks!
The Saturday, Day 6, looked gloomy at first but after another visit to the Boqueria market and more squid for breakfast (yes I really liked it!) the sun came out and we headed for the Park Guell, another Gaudi masterpiece. It's like a fairy tale, or a Fred Flinstone set, or an acid trip. I was determined to go because my kid sister had some great photos from there and I wasn't disappointed.
The last day, numero 7, we took the Blue Tram up to Tibidabo Mountain for a spectacular view of the city. Geoff got some great shots. Some of them are already up on Facebook.
Well, I guess that's it for now! There are a few photos up on Geoff's Facebook page, but they aren't all ready yet. Coming soon.
Thanks for reading!
Mandi