Geoff booked a much needed vacation for us after Frankie 100. We began with a cruise in and out of Boston, destination – Bermuda! Then we spent four days in the Boston area.
Our cruise was with Norwegian on the Dawn. Here's the itinerary: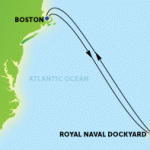 The experience on the Dawn was quite different our previous cruise. In December, we cruised on Royal Caribbean as described here. At first glance, the Norwegian Dawn was not as nice as the Royal Caribbean Explorer of the Seas. It was smaller, but also the layout was much more modest and a bit confusing.
The meal service was quite different; with the Norwegian "freestyle" dining we sat alone instead of in a group. For every meal. Well that seems nice at first glance, but actually it would have been nice to have lunches seated in groups. Frankly, we didn't meet anyone during the trip so in that way it wasn't as interesting. Also, the food was not nearly as good on Norwegian as it was on Royal. Nor was the gym.
However, Norwegian had one significant thing going for it. The entertainment. I don't necessarily mean the big shows. I'd say that the shows were equally good on Royal Caribbean as on Norwegian. However, the balance of the rest of the programming from the bands to the variety to the scheduling was far better thought out on Norwegian. It's a shame to think about it, but really looking back at Royal Caribbean, I was stressed on so many nights by the poor entertainment choices beyond the main theatre. The highlight on Norwegian was the Dawn Show Band who played not just twice but almost every single night. And there was a jazz brunch that we of course opted in for and was worth every penny.
Bermuda was lovely. We went snorkelling at a couple of different beaches, Horseshoe Bay and Tobacco Bay. The highlight, however, were the Crystal and Fantasy Caves. I would definitely recommend the caves to anyone who visits Bermuda. They aren't hiking caves, there are stairs and you take a proper tour and you don't crawl around and get dirty. They are simply fascinating and mystical. I'd recommend them to anyone who is going to Bermuda.
After the cruise, we went to Boston. We spent 2 days in the city, then a day in Martha's Vineyard seeing Edgar's Town and the sites of Jaws. Finally on our last day we went to Salem to see the Witch sites.
All in all it was a great and much needed trip.
Here are just a few photos from Bermuda: