On March 29th, ironically just a few days before the closing date for the sale of my social media business, my business account was hacked. It was really terrible and unfortunately, some of my clients lost their advertising accounts.
I am not naive about these things. I've always been very conscious about security and use an encrypted password keeper with more complex passwords. But even so, the hackers got to the business account.
This also resulted in my personal account being given an "under review" notice. On April 1st, I was given a 30 days to take action or my account would be shut down. I followed the review process (uploaded my ID for both for my personal account and business account) and actually did have a chance to speak to a Facebook representative on the phone because of the business manager. If it had only been my personal account, it wouldn't have been possible to get someone on the phone.
Unlike hacking where you're completely locked out of your account, I've actually been able to observe things on Facebook but not participate. This "no man's land" of Facebook jail allowed me to backup all of my photography and friends lists over the last couple of weeks. I fully expected the account to be deleted because it was taking so long.
By the way, my sister Zoey's personal account was hacked the same week as my business account. Because she was using a fake birthday on her account, she will probably not get her account back because when you have to upload your ID to prove your identity, there has to be enough data that matches to verify who you really are.
I can't stress this enough; ensure you have a super strong password and turn on extra authentication for your Facebook and Instagram accounts. I see people being hacked every single week and losing their accounts. My situation was a little different, but it still adds up to the same thing. Go to your Facebook (and Instagram) settings and do a security checkup ASAP.
_________
Friday, April 1st
This is the day I was given my 30 day notice on my personal account. (See the cover image.)
_________
Sunday, April 17th
I was let out of Facebook jail for under 24 hours on Easter Sunday, April 17th, but in under 24 hours my account was restricted again. I guess it was some sort of a glitch that even let me post in the first place. This time I'm able to edit existing posts but I can't create new posts or comments. Messenger seems to work. I am probably back on the path to having my account deleted by the end of the month.
_________
Wednesday, April 20th
(morning) – I seem to be able to post again. We'll see how long it lasts.
…And within a few hours: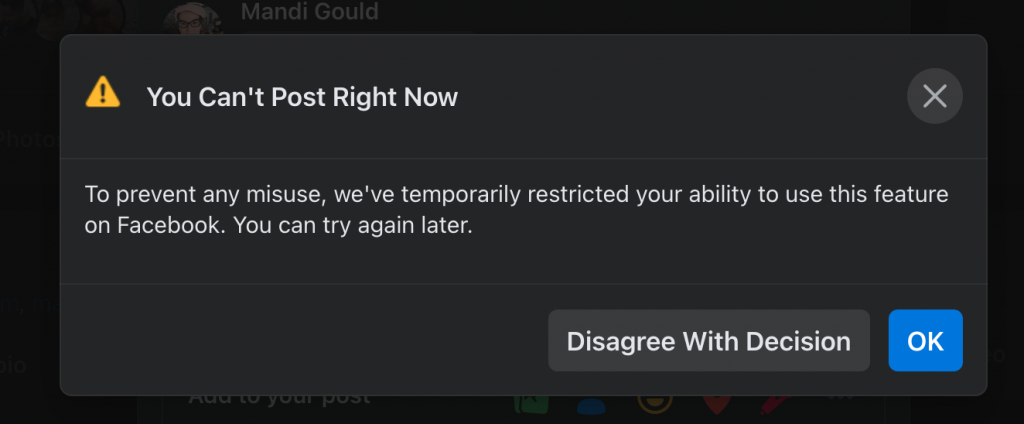 _______
Friday, April 29th
It's 5:30pm and I seem to be out of jail again. I tried this morning and was still being restricted. We'll see if this lasts. If not, my account will be shut down on May 1st, according to the 30 day notice.
Conclusion
On April 29th, without any email notification, I was let out of Facebook jail and it seems to be permanent. So that was 30 days in jail, just a few days shy of the 30 day notice that I received on April 1st. That's a long time but I did get through it. Such a pain, and I commiserate with anyone who goes through something similar.