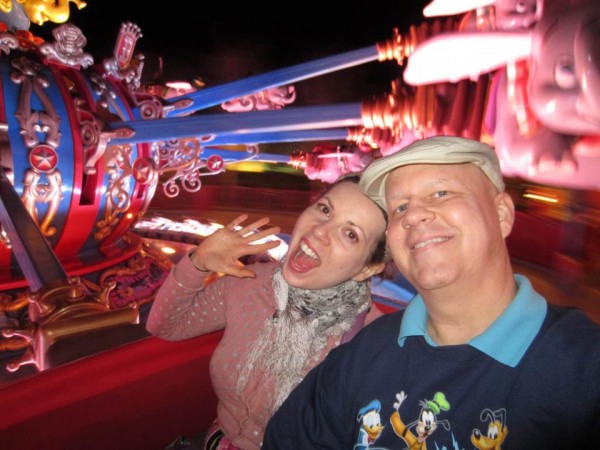 We just got back from the best possible trip to Disney World. It was just what the doctor ordered! In January, the community did a fundraiser to send Geoff and I to Disney World as part of his cancer recovery which I wrote about in 
this blog post
. Not only was that the most kind, generous and touching gesture but it was EXACTLY the perfect th ing to help Geoff to feel human again. We had a fabulous time.
In addition to the highlights of the trip that I'm writing about here, I've also written a blog post on my food blog about Staying Healthy and Vegetarian at Disney World.
We stayed at the Caribbean Beach Resort this year which was very nice. We didn't have a chance to go swimming but I did go for a jog around the lake most mornings and it was very pretty. We also had very good luck with the frequency of the bus service this year from our hotel to the various parks. It was very convenient.
We visited each park 3 or more times which was awesome. Going for 8 days it was so great to not feel rushed. Even though it wasn't high season, it does get busy by mid day so it was particularly nice to be in the parks earlier or later in the day. Mid-day we either went back to the hotel to rest or we would duck out to one of the resorts, on a boat ride or into one of the seated shows for a little peace. Honestly, the best part of the whole trip was feeling like there wasn't any hurry to do anything at all. Except for a few dining reservations, we just went with the flow.
Below I've listed my favourite things not to be missed around Walt Disney World which we enjoyed, sometimes multiple time, throughout the trip. One of the things that I really enjoyed this time around was taking the boat between Hollywood Studios and the back of Epcot. It stops along the new Boardwalk area along the way and then drops you off right at the World Showcase in Epcot. This was such a nice option and between the various buses, the monorail and now this boat ride we were able to spend lots of extra time at Epcot. This is particularly great since I find Epcot to have the best food options.
Magic Kingdom
Adventureland
The Enchanged Tiki Room (now back in it's original glory!)
Pirates of the Carribean (not as good as Disney Land but still good)
The Jungle Cruise
Big Thunder Mountain (but only with a fast pass)
Frontierland
The Haunted Mansion (at least twice)
Country Bears Jamboree (at least twice, I think we saw it 3 times this year)
Fantasyland
It's a Small World – MANDATORY!!!!
Peter Pan (but only with a fast pass)
Mostly under construction right now but it's nice to walk through and see what they're working on
Tomorrowland
Carousel of Progress (classic and so underrated! The last scene needs to be re-done but the rest is golden.)
The People Mover (underrated)
Space Mountain (but only with a fast pass)
Epcot
Spaceship Earth
Living with the Land – I shouldn't love all those GMOs but I freaking love this ride!!!
The France Pavilion (the film is fantastic and the the bakery is a must)
The Norway Pavilion (the Maelstrom ride is fantastic
The Mexico Pavilion
Honourable Mention:
Captain EO – got to do it once. So bad it's good!
Aminal Kingdom
Kilimanjaro Safaris
Expedition Everest (at least once)
Dinosaur
Hollywood Studios
The Tower of Terror (as many times as you can!)
Muppet Vision 3D
Something else that we did this trip was to rent a boat for an hour to cruise around the 7 Seas Lagoon. We rented it at the Grand Floridian and it was about $45 for one hour. We went out on a sunny but cool day and really enjoyed ourselves. I particularly loved getting so close to the spectacular pelicans that were out on the water.
We also spent some time checking out some of the hotels and resorts this time. It was nice to have a leisurely visit to the Polynesian, Grand Floridian, the Animal Kingdom Villas and Lodge and also the Boardwalk. There are some nice restaurants, interesting architecture and sometimes there are bands playing or other options for just hanging out away from the crowds of the parks. I had a nice nap at the Grand Floridian while a band was playing. I'm sure that's the cheapest sleep that anyone has ever had at that hotel!
I listed them above but I really want to mention the Festival of the Lion King show that we saw at Animal Kingdom. It was really a high quality circus show with very impressive oversize animatronics. This was one of the best things on the whole trip.
The very best part of the entire trip though was seeing Geoff so happy. He was reborn at Disney, I think. It was the best possible thing for him and seeing him happy made me happy.
I'm going to add to this blog post as I think of things but wanted to jot down a few things while the trip was still fresh.
Thanks again to everyone who helped make this possible!