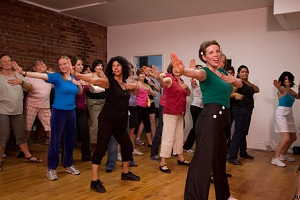 Practicing Your Beginner Swing Dancing Basics
Don't forget to check out our other Resources & Links. And why not pop by and check out our Blog Posts! Toronto Blog Posts.
"How do I get to Carnegie Hall?"
"Practice, practice, practice."
Like most things in life, practice makes perfect! That's no different for swing dancing, and as Beginner Swing Dance students it can take some time to get the hang of the footwork, connecting with a partner, hearing the music, and forming the moves. But it's important to remember that technique is NOT the most important part of Swing Dancing. It's not? Well, no! What is crucial is that you let loose and have fun! The more that we're able to relax and take ourselves less seriously, the more easily the steps and form will come to us.
Learning the basics of Swing Dancing is all about finding the spirit of the dance. In particular, Lindy Hop is the original form of Swing Dancing which grew organically right on the great dance floors of Harlem, New York, during the late 1920s and throughout the 30s, and it's a dance that is meant to be free-spirited, joyful, and a little bit raw and wild.
That's not to say that learning some technique and basic dance repertoire isn't important. As Beginner Lindy Hop students, we aren't just learning a few dance steps, we're also stepping into the culture and  history of the magical Swing Era. So when we learn a new dance pattern, we're helping to preserve and perpetuate something historical and very special.
Here are some review videos of our Beginner Lindy Hop program:
BEGINNER LINDY HOP – SWING 1
8 Count Month
Beginner Swing – Week 1
Beginner Swing – Week 2/3

If you haven't made "step step triple step" your mantra yet, here are a few practice videos that will help you to ingrain the timing into your muscle memory:
Leader's Footwork:
Follower's Footwork:
The Swing Out:

And here is a video that includes some fun basic moves and shows how they might be put together:

Charleston Month
Beginner Charleston – Week 1
Beginner Charleston – Week 2
Beginner Charleston – Week 3
Beginner Charleston – Week 4
TRANSITIONS IN LINDY HOP – SWING 1.5
Frankie Phrase
Transitions 1.5 – 8 Count Month
Transitions 1.5 – 6 Count Month
Transitions 1.5 – Tandem Charleston Month
Transitions 1.5 – Hand to Hand Charleston Month

Whether you're taking Beginner Swing Dance Lessons in Toronto,or anywhere else in the world, practice + fun = the key to Lindy Hop success. So enjoy yourself, keep on practicing, and though you might not get to Carnegie Hall you're very pretty much guaranteed to find the spirit of the Savoy.
A one, a two, you know what to do!