**Updated October 24, 2018**
We've just returned from 5 ½ days at Walt Disney World, including a 15 ½ hour non-stop day at the Magic Kingdom on our final day. I've now been to WDW three times in the past 6 years with my husband , and he's been many more times than that. He's a real Disney pro. However, with the new FastPass+ system and the growing crowds things have changed. Though it can be nice to be spontaneous about many parts of your vacation, in this case it does pay to get organized in advance and to select your FastPasses strategically.
FastPass+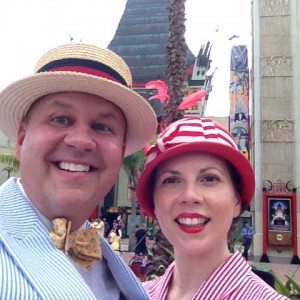 As soon as you've bought your tickets, you'll want to download the Walt Disney Word app and become acquainted with it. It definitely has some advantages, but also some frustrations.
You're allowed to pick 3 FastPasses in advance per day, and they are limited to be taken all within the same park. That means that you can't choose 2 FastPasses at Epcot and 1 at Hollywood Studios, for example, so Park Hopping is a bit different than it once was.
Once you've used your 3 FastPasses, you can choose an additional FastPass, one at a time, but you must do so at a kiosk at the Parks. We did not find these kiosks to be very prominent or widespread, so you'll need to look at the app to find a kiosk or ask someone at the park. There can also be long lineups for those kiosks.
Probably the biggest problem with the new FastPass+ system is that by the time you've used your original 3 FastPasses, the selection of what's left for the day is very limited. The most popular attractions, like the Tower of Terror at Hollywood Studios, will likely all be gone for the day, and FastPasses for the new Seven Dwarfs Mine Train at the Magic Kingdom fill up days in advance. I can only imagine the chaos when the new Frozen ride opens.
You'll want to sign up for the Seven Dwarfs Mine Train as soon as you get your hands on the app as the lineups are extensive. If you do want to try the ride and you don't have a FastPass, your best option is to go there immediately upon the park opening. We were able to get one FastPass only for that ride during our 5 day visit, and it was a 10:15pm to 11:15pm time slot. There were fireworks in the sky while we rode the ride for the very first time which was very magical, but we did want to ride it again in daylight to be better able to see the details of the ride. We decided to dash straight to lineup first thing in the morning when the park opened and were able to get on the ride with only about a 40 minute wait–that line definitely fills up fast! The wait is usually a minimum of 80 minutes; we saw it as high as 125 minutes and that was at low season.
Magic Kingdom
This is my personal recommendation on how to best organize your time. This advice is particularly for the Magic Kingdom but also applies to the other parks:
Don't pick any fast passes for before approximately 11:30am. (Unless there's nothing else left.) There's not a lot of point since most of the lines are not long in the mornings. If you have FastPasses for first thing in the morning and there aren't any lines or very short or fast moving lines, you're going to feel a bit ripped off. Particularly when you can't get any good FastPasses for later in the day anyways.

However, there are some FastPasses that are pretty worth it at any time of day: Seven Dwarfs Mine Train, Space Mountain, Big Thunder Mountain.

Book your FastPasses for the busiest time of the day in the afternoon between 2pm and 6pm. (Whenever possible.)
Arrive at park a good 20 minutes before opening. Line up for your favourite rides between opening and about 1pm. The lines are short in the morning and move quickly until 11am or so. (FYI, the Magic Kingdom actually opens 20 minutes before the listed time. For example, if the park opening says 9am, there is an opening show at 8:40am and then they open the gate at 8:45am.)
Enjoy a relaxing lunch between 1pm and 3pm.
Be strategic about the busy time of the afternoon. In the afternoon while you don't have FastPasses, go see the animatronic or film shows like the Enchanted Tiki Room, the Country Bears Jamboree, the Hall of Presidents, the PhilharMagic, and the Carousel of Progress. The busy part of the afternoon is also a great time to ride the WDS Railroad, take the Liberty Square Riverboat, visit Tom Sawyer Island, and climb the Swiss Family Tree House. There are also rides that might not have a long lineup like the People Mover, and I wouldn't line up for longer than 15 minutes for It's a Small World but that can be a good afternoon option too, otherwise the line drops way down at night.
If you'd like to see the afternoon parade and you're taking a break anyways, get a seat on the ground at the railings above the Main Street USA train station for a great view of the castle and the parade. Arrive at least 30 minutes early to snag a spot. Then you can hop on the train as soon as the parade is done to get to get away from the Main Street crowd.
If you plan to take a break and leave the park for lunch, a rest, or a water park, do that in the afternoon between 1pm and 6pm too.
When we were there, they did the Electrical Parade twice at night, and somehow nobody noticed the rocking chairs near the Hall of Presidents so we got great seats when the park was closing at 11pm. (Actually, the park remained open from 11pm to 1am for Magic Hours for resort guests making this a great time to watch the parade if you aren't staying at a resort. Check your app for the park hours while you're attending.)
The best FastPasses to get between 1pm and 7pm:
Seven Dwarfs Mine Train
Space Mountain
Big Thunder Mountain
Splash Mountain
Peter Pan's Flight (Do not bother lining up for this ride, get a fastpass or skip it. It's a classic but it's short and more nostalgic than anything else. The lineups are really long for this.)

If you're attending multiple days, you could also get a FastPass for these, otherwise lineup as the line moves efficiently:

Haunted Mansion
Pirates of the Caribbean
Attractions to attend without a FastPass in the morning or at night when it isn't too busy:
Pirates of the Caribbean (moves quickly in the morning and at night, or worth a longer wait)
Haunted Mansion (moves quickly in the morning and at night, or worth a longer wait)
Jungle Cruise
Little Mermaid
it's a small world
The People Mover (evening)
Carousel (night)
Shows to Attend in the Afternoon when it's busy or you need a break:
The Enchanted Tiki Room
The Country Bears Jamboree
The Hall of Presidents
The PhilharMagic
The Carousel of Progress
The Swiss Family Tree House (walkthrough, not a show)
Worth doing once if you've never done it before, but don't line up more than 30-40 minutes:
Enchanted Tales with Belle (some really impressive new animatronics, but this is really for little kids and moves too slowly)
Monster's Inc. Laugh Floor
Winney the Pooh
Fun if the lineup is really short, otherwise pass:
Dumbo
Aladdin's Magic Carpets
The Tea Cups
Astro Orbiter
Buzz Lightyear's Space Ranger Spin
Take It or Leave It
Stitch's Great Escape (I strongly dislike the Stitch thing and would not recommend it)
Tomorrowland Speedway Cars (nothing special)
The Other Walt Disney World Parks
Animal Kingdom
The Animal Kingdom is my second favourite park. I really enjoy it. Not everyone "gets it" because there are not as many rides and it's a combination of a zoo and an amusement park, but I think that they've put a lot of care into the park and it's terrific.
Best FastPasses:
Kilimanjaro Safaris
Expedition Everest
DINOSAUR
Don't miss these Shows:
The Festival of the Lion King
Flights of Wonder
Finding Nemo: The Musical
Line up for:
Kali River Rapids (FYI, you get *really* wet on this. Like really wet. Much more so than Splash Mountain. I personally don't take it but my husband likes it.)
Also go on all the animal treks and nature trails, especially to see the tigers and gorillas.
Unless you have little kids, skip the train to Rafiki's Planet Watch, or you could go once if you've never been. It's time consuming and out of the way, but if you have little ones it's nice enough.
Hollywood Studios
If you time it right, at low season you can do Hollywood Studios in half a day and without FastPasses. Our favourite attraction is definitely the Tower of Terror!!! Love love love! If I could just get 3 FastPasses in a row for it, I would, but that's not allowed.
The best FastPasses are:
Tower of Terror (!!!)
Star Tours
The Great Movie Ride
Rockin' Roller Coaster [I actually don't really like this one. I would say pass on it unless you've a) never done it before, b) the lineup is really short, or c) you have a spare FastPass.]
I would also recommend:
Muppet Vision 3D <3 (Usually there's just a short wait. Love it.)
Walt Disney: One Man's Dream (Walkthrough and movie, not to be missed.)
The Indiana Jones show if there's a short lineup
The Beauty and the Beast show if there's a short lineup
If you can get an extra FastPass, use it to get a spot for the Fantasmic show
Epcot
You can do Epcot in one full day. I would do the front of the park in the morning and move to the World Showcase in the afternoon since it doesn't open as early anyways.
Our favourite attractions are:
Spaceship Earth
Living with the Land (we personally love this – we also did the behind the scenes tour which was just $20 and totally worth it)
everything in the World Showcase
FastPasses:
Mission: Space (good use of a FastPass, I let my husband use mine to ride twice as it makes me too sick)
Soarin' and Test Track – NB: I dislike these but if you want to do them, definitely get a FastPass. Don't wait too long.
I also like:
The Sea with Nemo and Friends
The Circle of Life film at the Land pavilion
Ellen's Energy Adventure (It's dated but I still like it. I rode this while my husband did Mission: Space twice.)
The coral reefs and acquariums
The ride at the Mexico Pavilion
There's other stuff in the front of the park but I won't bother listing it. You can explore at your leisure if you have time.
Have fun!!!
I'll add photos and videos as my husband has them ready. If you have any comments or thoughts about Walt Disney World and the new FastPass+ system, I'd love to hear about it!