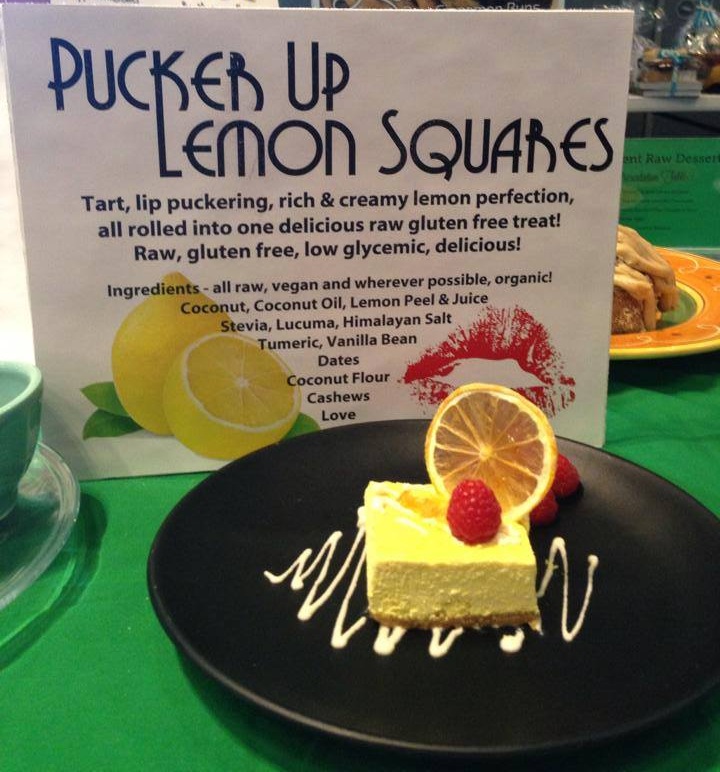 Yesterday I participated in Toronto's Totally Fabulous Vegan Bake-Off! I entered in the raw category with my raw lemon squares. It was a really neat experience!
I competed as part of Team Lindy Hop. In the above photo, I'm on the far right. To my left is Kris Light with her P.B. Phone Home squares, next is Ashley Bratty with her Snickerdoodle Sandwich Spectacular/Snickerdoodles Marsala, and then on the far left is Heather O'Shea with her Jazzberry Lemon Cupcakes. Heather won Best in Show for her cupcakes!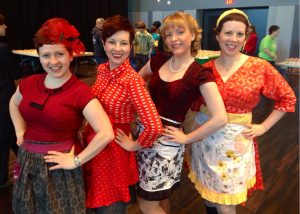 I received so much positive feedback on these squares. Someone even told me that they were not only her favourite dessert of the day but the best lemon squares she'd ever eaten! It was really an honour to participate. However, lemon lost to chocolate in the end. I understand. People do love chocolate, myself included, and the winning raw chocolate lavender cheesecake in the raw category was very lovely.
Pucker Up Raw Lemon Squares Recipe
Filling:
5 cups of dried, unsweetened coconut  butter (approximately one jar or about 4.5 cups of fine dehydrated coconut converted into coconut butter)
2-4 tbsp of coconut oil
10 lemons, zested first, then squeezed
1/3 cup of lucuma powder (optional)
Stevia Powder to taste – I like NOW brand
1/4 tsp tumeric (for colour, optional)
Crust:
1 cup of raw cashews
1 cup of raw coconut flour
aprox. .5 cup of dates (use more as needed)
IMPORTANT INSTRUCTIONS: **Your food processor must be completely dry for this to work, and all ingredients should be at room temperature before proceeding.
Blitz the dried coconut and 2 tbsp of coconut oil in the food processor to make coconut butter. This can take several minutes. Stop and scrape the sides of the sides of the food processor often. If after 5 minutes your mixture is still dry, add more coconut oil as needed.
Once you've made a completely smooth butter, add the lemon zest. Blend.
Add the lucuma. Blend.
Add the lemon juice. Blend.
The stevia that I use comes with a tiny little spoon inside the jar. Add 2 of the tiny spoonfuls, or just a small pinch of stevia and blend and taste often. Adding only a small amount at a time, add more of the stevia as needed adjusting to your palette.
Add the tumeric. Blend.
Pour contents in to a bowl and set aside on the counter (not the fridge) while you continue on to make your crust.
When working in this order, there is no need to clean the food processor. Blitz cashews in the food processor until they start to form a crumb.
Add the coconut flour and approximately 6 dates and start the food processor going, adding more dates until the mixture starts to seem slightly sticky. Stop the food processor and smoosh some of the mixture together with your fingers from time to time and when the mixture starts to stick together, it's ready.
Line a pan with parchment paper, or oil and dust with coconut flour before pressing the crust in to the form.
Once you've pressed the crust in to a pan, scoop the filling in to the pan and smooth it out with a spatula. Place it in the freezer for at least one hour before cutting and serving. I like to make this the night before and thaw it out the next day for serving.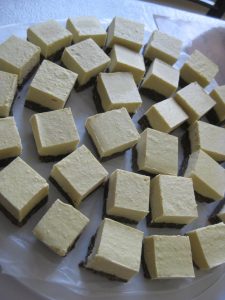 When I first started hunting for the best raw lemon square recipe, I wasn't very satisfied with what I found.  That led to a lot of experimenting and eventually to this favourite recipe of mine. Here are some photos of an earlier version of the lemon squares, without the addition of tumeric for colour:
My lemon square display made it in to this photo gallery from BlogTO.